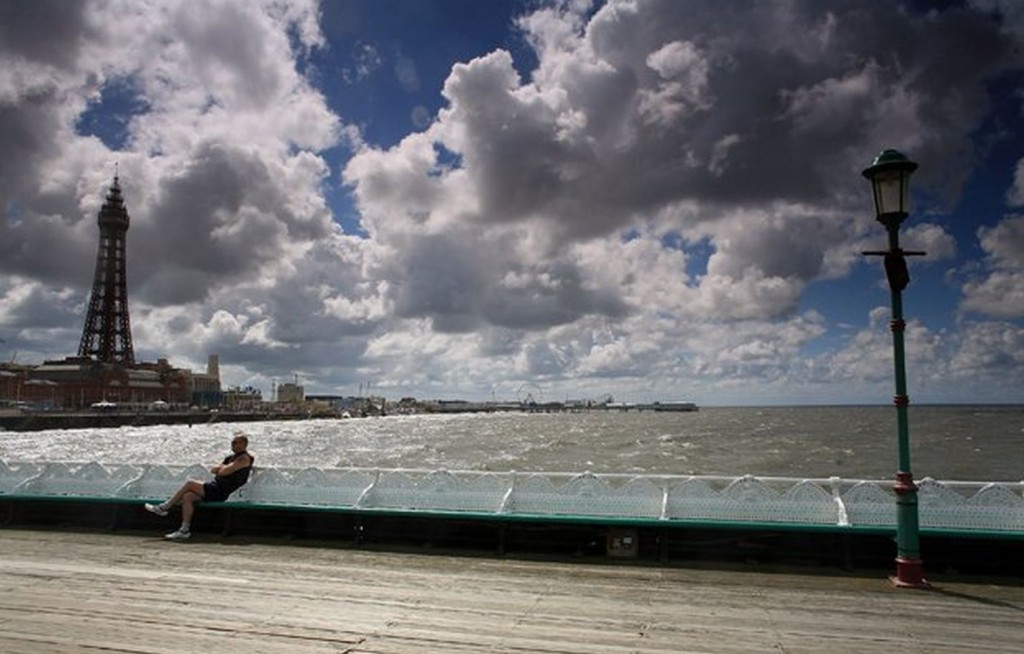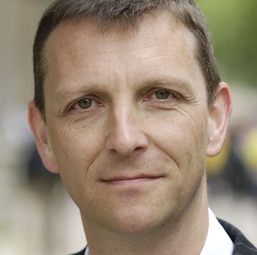 Although I can be rather sceptical where statistics are concerned, this excellent article on the BBC website by their home editor Mark Easton (right) grabbed my attention because of the sheer scale of the numbers involved. I have therefore decided to reprint the article.
Each month in Blackpool, one adult in every six picks up a prescription for anti-depressants.
A seaside resort promising fun and excitement to visitors, emerges as the place in England with the highest proportion of its population regularly taking medication for depression and anxiety.
Analysis of prescribing statistics reveals a number of English towns and cities where approximately one adult in six is now prescribed anti-depressants in an average month. They include Barnsley, Redcar, Durham, Middlesbrough, Salford and Sunderland.
NHS England this week published data showing that more than 50 million prescriptions for anti-depressants were issued last year, the highest ever number and 7.5% up on the year before.
One is tempted to ask why we are seeing such huge and rising numbers of people regularly taking anti-depressants when GPs are advised to prescribe them only for more seriously ill patients.
In some places the number of patients prescribed anti-depressants exceeds the number of people in that area estimated to suffer from depression and anxiety by the NHS England's Psychiatric Morbidity Survey (PMS).
For example, in Lincolnshire some 75,500 anti-depressant prescriptions are issued each month and yet the PMS suggests there are only 58,700 people suffering from depression and anxiety in the area.
It is a similar story in County Durham where there were 63,700 prescriptions and 55,300 people identified by the survey.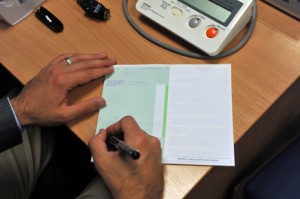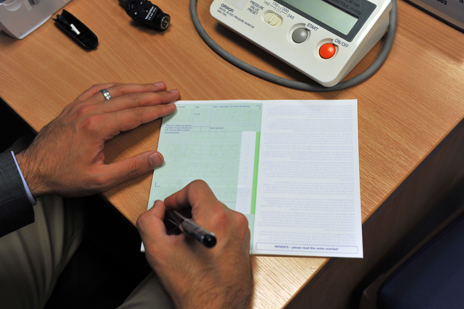 Official guidance from prescriptions the National Institute for Health and Care Excellence (NICE) urges doctors in England to treat patients suffering mild to moderate depression with psychological therapies. Medication is recommended for more severe depressive illness in conjunction with therapy.
However, access to psychological therapies is patchy. Figures published this week show that in Swindon, for example, 25% of people estimated to be suffering from depression or anxiety received therapy treatment last year. In Hillingdon in north London, it was under 2%.
In a statement, the Chair of Hillingdon Clinical Commissioning Group, Dr Ian Goodman, said: "We recognise that the number of patients in Hillingdon with anxiety or depression who are getting treatment through the IAPT (Improving Access to Psychological Therapies) service is low."
"Our patients who do get IAPT treatment have high recovery rates, so we are committed to improving access so that more patients can receive this high quality care."
What are they doing right in Swindon? The commissioning group there says the results "demonstrate the outstanding achievements" of their psychology team. "One of the reasons this service is different is that it runs an open access opt-in service, which is available to anyone and has at least one therapist based in each GP practice."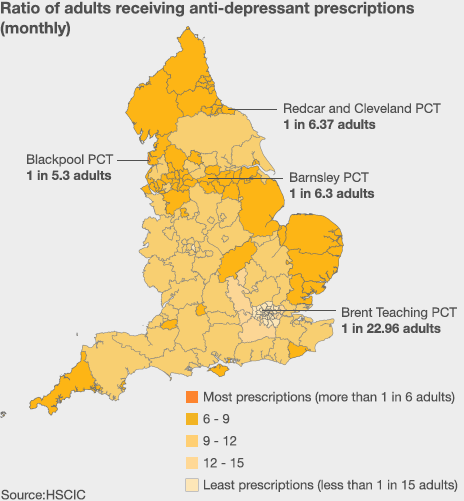 While communities, largely in the north of England, have very high levels of anti-depressant prescribing, the areas with the lowest rates are in London. The 20 places with fewest prescriptions per head of adult population are all boroughs in the capital.
In Brent, for example, anti-depressants are issued to one adult in 23 each month. In Kensington & Chelsea and Redbridge it is one in 21. This means that the prescribing rate even in some of the poorest in London is less than a third what it is in Blackpool.
The proportion of estimated depression and anxiety sufferers prescribed anti-depressants is lowest in London too. While in Blackpool the figure is 92%, in Kensington & Chelsea it is 23% and in Brent 28%.
However, London boroughs do not have particularly impressive figures for getting patients with depression or anxiety into therapy. Hillingdon and Croydon have among the worst figures in England.
Indeed, there is little correlation between anti-depressant prescribing and access to psychological therapies. While in Blackpool (the highest prescribing rate) 7.3% of those estimated to need therapy treatment are receiving it, in Brent (the lowest prescribing rate) the figures is 7.4%.
This suggests it is not as simple as doctors offering tablets because therapy is not available.
Mark's article concludes with a set of charts, showing the trusts that have the highest / lowest figures when it comes to prescriptions for antidepressants and access to therapy. (All data sourced to HSCIC)
Reproduced with permission of the author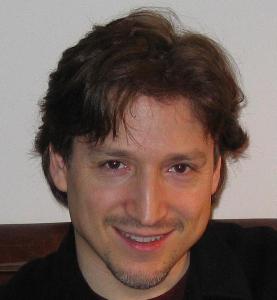 Incidentally … after publication of the article, Mark was tweeted by Professor Anthony Cleare (right), who wrote that "large rise in SSRI prescriptions mostly (but not all) appropriate prescribing and coincides with reduction in suicide rates."
The professor works at Kings College, London, and has "… received honoraria for consulting and/or speaking from Eli Lilly, UCB Pharma, Merck, Organon, Pfizer and Cyberonics; received unrestricted research grant support from GlaxoSmithKline; and has written medico-legal reports on patients with depression for court proceedings instructed by both claimants and defendants."