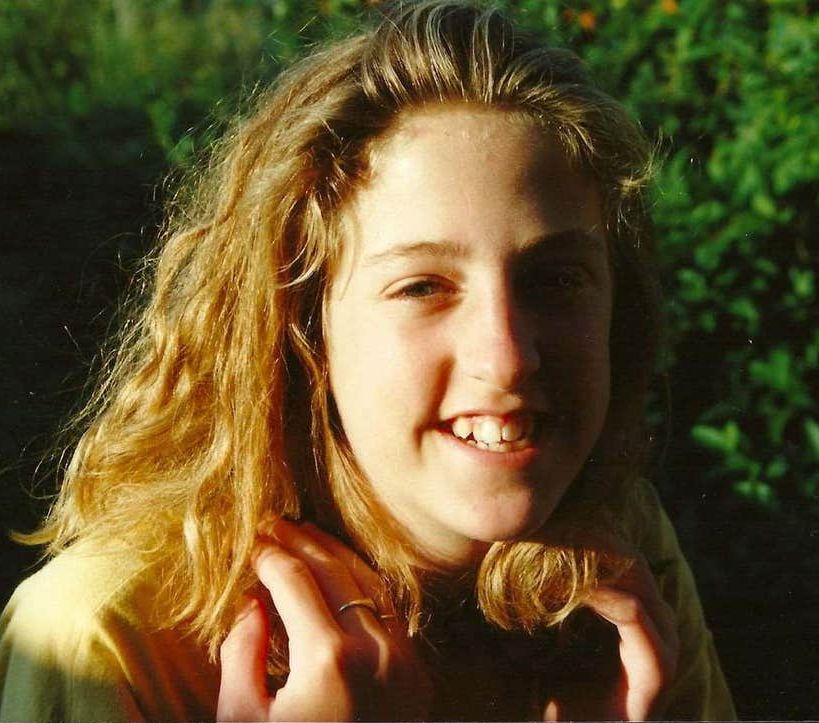 On the morning of July 23rd 2016, 38-year-old Charlotte Nokes (top) was found dead in her cell at Peterborough Prison. She had been dead for several hours.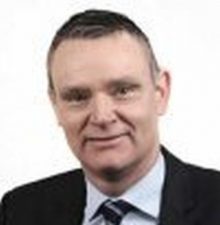 At the conclusion of her inquest yesterday, a jury decided that she had died of Sudden Arrhythmic Death Syndrome (SADS). Consequently, the verdict delivered by coroner Simon Milburn (right) was that Charlotte had died of natural causes.
Charlotte was an extremely talented artist whose work was exhibited by the Koestler Trust. She developed her passion for art whilst in prison and had been offered a scholarship to study at Central St Martins on release.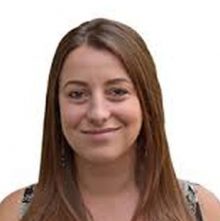 An article by Harriet Marsden (left) in the Independent last October revealed that Charlotte was brought up on Hayling Island, Hampshire. As a young teenager, she grew bored with her isolated surroundings, starting to smoke, drink and experiment with drugs. Her parents split up when she was 14, around the time she gave up playing football and judo. As a gay girl in a small town she would get beaten up just walking down the road, and began to carry a knife. By the time she moved to Portsmouth at 18, she was addicted to alcohol, heroin and crack cocaine. She began stealing to fund her addiction and racked up more than 50 convictions for petty offences like drug possession and shoplifting. On 27 October 2007, she was begging for money to buy drugs, and when a woman refused, she threatened her with a knife. In January 2008 she was convicted of street robbery and given an IPP sentence, thanks to her spate of prior convictions, with a minimum tariff of 15 months. It was her 30th birthday.
IPP (Imprisonment for Public Protection) sentences were introduced in 2005 and gave offenders a minimum prison tariff but no maximum. Although they were abolished in 2012 after their use spiralled out of control and the European Court of Human Rights deemed them unlawful, there are still than 2000 prisoners detained on IPPs.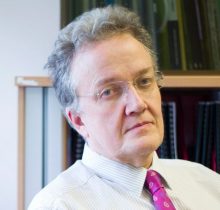 Nick Hardwick (right), former Chief Inspector of Prisons, pointed out that there is a fundamental problem with IPP sentences: they keep people in prison for something they might do in future, rather than what they have done in the past. He said: "The onus falls on the IPP prisoner to demonstrate that they are not a risk, rather than on the state to demonstrate that they are."
The situation leads to inconsistent sentencing, confusion on behalf of the families of offenders and hopelessness among the inmates. According to Prison Reform Trust figures from 2017, IPP prisoners are among those with the highest rates of suicide and self-harm, almost twice as high as those serving determined sentences.
Charlotte was originally sentenced to a minimum term of 15 months, but by the time she was found dead in her cell she had served more than eight and a half years. She believed she would never be released, and told her family multiple times that the IPP was her death sentence. She was the first woman under an IPP sentence to die in prison. Three more women on IPP sentences have died since.
In the months leading up to her death, Charlotte was receiving heavy doses of medication to treat her mental and physical health diagnoses of borderline personality disorder and premenstrual dysphoric disorder (a severe form of premenstrual syndrome). She appeared heavily sedated and could barely talk. But the day before she died, her family said, she was thrilled to have been notified by the Home Office that she would be moved from prison to a therapeutic psychiatric unit as her parole board had recommended. She was still on suicide watch, and was supposed to be checked twice an hour, but by the time she was pronounced dead at 8:55am the next morning, her body was cold. There was no evidence of suicide.
The inquest into her death began in October last year. The family hoped to finally have answers as to how Charlotte died, and had secured an expert psychiatric report that examined the impact of the medication Charlotte was prescribed. But the inquest was adjourned until February 2020, because the NHS Trust asked for this evidence to be excluded from the inquest.
The coroner denied this request but gave the Trust time to produce their own report. Charlotte's mother Sue said that when the inquest was delayed, she couldn't stop crying. She said: "To me, it feels more like a trial than an inquest."
Charlotte's father Steven added: "It almost seems like a little game of attrition on their behalf."
When Charlotte's inquest resumed this week, her family voiced once more their concerns that the medication she was receiving to treat her worsening mental health, which had been exacerbated by the IPP sentence, contributed to her death.
The jury heard that Charlotte was on a variety of drugs, including medication used to treat depression, anxiety, insomnia and acute mania as well as drugs to control tremors caused by anti-psychotic medication.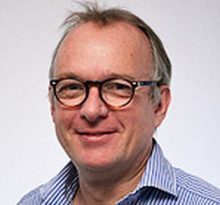 Dr Martin Goddard (left), who conducted the post-mortem examination, told the inquest that he was unable to record a cause of death, ruling out third-party involvement, or a toxic cause of death, such as a drug overdose. He also said there were no obvious underlying natural causes. Dr Goddard told the jury it was possible that Charlotte had suffered from SADS, which is only recorded in fewer than 5% of deaths at inquests.
He added: "I apologise to the family that I've been unable to give them peace of mind, but I'm afraid that is the way it is. There is nothing to suggest it was an unnatural death."
Charlotte's family was also told that appropriate checks to monitor the side effects of her medication had taken place.
After the inquest, Charlotte's father said that the family were disappointed by the conclusions of the inquest. He said: "Natural causes is too ambiguous. There were so many other things to consider in Charlotte's death. After a three-and-a-half-year wait since she died, this felt like an anti-climax. We've been grieving all this time. The grief won't go away. But we have an answer now. A line can be drawn under it. It's not quite the answer we wanted. Charlotte died and it doesn't seem that much is happening to stop something like this from happening again."
Whenever a prisoner dies while still in custody, the Prisons and Probation Ombudsman (PPO) carries out a Fatal Incident Investigation (FII). The investigation into Charlotte's death was published immediately after the completion of her inquest.
The 13-page document includes details of some of the drugs that she was prescribed during her sentence.
In October 2014, while at Bronzefield Prison, she was prescribed: "Diazepam (for anxiety), Depakote (for mania symptoms), Mirtazapine (an antidepressant), Beclomethasone and Salbutamol (for asthma), Mebeverine (for abdominal cramps), Nafarelin and Tibolone (synthetic female hormones for PMDD symptoms), Omeprazole (to treat excess stomach acid), and Paracetamol (for pain relief)."
After transferring to Peterborough in April 2015, "a mental health nurse reviewed her and recorded that Ms Nokes suffered from borderline personality disorder with severe anxiety."
In July 2015, "the consultant forensic psychiatrist prescribed Trifluoperazine (an antipsychotic medication that can be used to treat certain types of anxiety)."
In May 2016, the consultant forensic psychiatrist "recorded that she appeared sedated, with slurred speech. Ms Nokes reported that Piriton (an antihistamine medication) caused this, and denied using illicit substances. The psychiatrist noted that she presented as very upset and offered to admit her to the healthcare inpatient unit but she declined. She stopped Ms Nokes' Piriton prescription and reduced her dose of Diazepam."
In June 2016, "the consultant forensic psychiatrist saw Ms Nokes for a review after prison staff reported increasing concern about her mental state. Ms Nokes received 200mg of Zuclopenthixol (an anti-psychotic medication) and the next day, the psychiatrist spoke to Ms Nokes by phone and prescribed 5mg of Diazepam."
On July 14th 2016, "a prison GP told a nurse that nurses had reported concern about Ms Nokes' slurred speech. The medical records show that a prison physiatrist said he had seen her earlier that morning for a care plan review and would speak to the consultant forensic psychiatrist about slowly reducing her medication but there is no record of this discussion taking place."
The following day, "a nurse recorded that night staff had reported that they experienced difficulty waking Ms Nokes up for her evening medication. Nurses could not be sure whether Ms Nokes was taking any other medication but felt Diazepam may be over-sedating her. They informed the mental health worker, as Ms Nokes' key worker. No further action was taken." A week later, Charlotte died.
The investigation states: "The post-mortem concluded that the cause of Ms Nokes' death was unascertained. However, the reporting pathologist stated that toxicology tests showed no signs of excess drug usage and that there were no features to suggest her death was due to anything other than natural causes."
One of the findings of the investigation was: "There were some failings in following up aspects of Ms Nokes' medicines management. It is not clear from the records, what action was taken when Ms Nokes' medicines may have been over-sedating her. Her medication should have been promptly reviewed. Ms Nokes received some long courses (28 days) of Diazepam, and at least one long course of Zopiclone, which are both highly addictive and suggested to be prescribed as short courses (two weeks). There is also evidence of poor prescribing and recording practices. The Head of Healthcare at HMP Peterborough should review the medicines management process, and ensure this is supported by an accurate audit trail."
This is the one and only mention of Zopiclone in the entire report. This shows that the complete extent of the regime of polypharmacy which was delivered to Charlotte is not revealed systematically.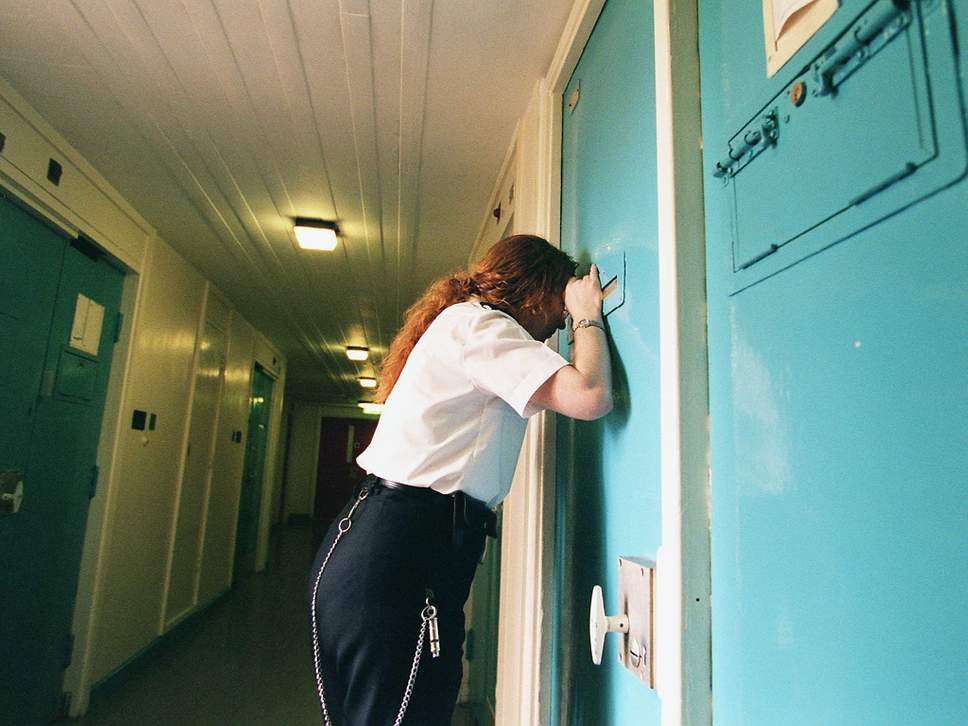 Two years ago, I used FII Reports to conduct a thorough investigation into suicide in women's prisons, and discovered the extent of reckless over-prescribing that goes on. In both men's and women's prisons, the drug that is linked most often to self-inflicted deaths appears to be Mirtazapine. As it has acquired a reputation as a sleeping-aid, it is no surprise to see the extent to which it is prescribed in prisons, as a subtle form of chemical restraint.
We have some idea how much the IPP affected Charlotte's mind, but we will never know the extent to which polypharmacy affected Charlotte's body.  It seems perverse to describe Charlotte's death as "natural" when her body had had to accommodate at least thirteen and probably several more unnatural substances during her time in prison.
In particular, anti-psychotics have been linked over a long period with ventricular arrhythmias and, thus, sudden cardiac death. Not only was Charlotte taking anti-psychotics, but she was also having to take additional drugs to counteract the tremors which were caused by anti-psychotic medication.
Charlotte's father had this to say about his daughter: "She had many struggles in life, was beaten up for being 'different' and experienced mental ill health. Prison was never the best place for her. The indefinite sentence only made this worse. She told us the IPP sentence was really a life sentence, and despite her hopes and dreams of moving to London to study art, she knew she would die in prison. This cannot continue."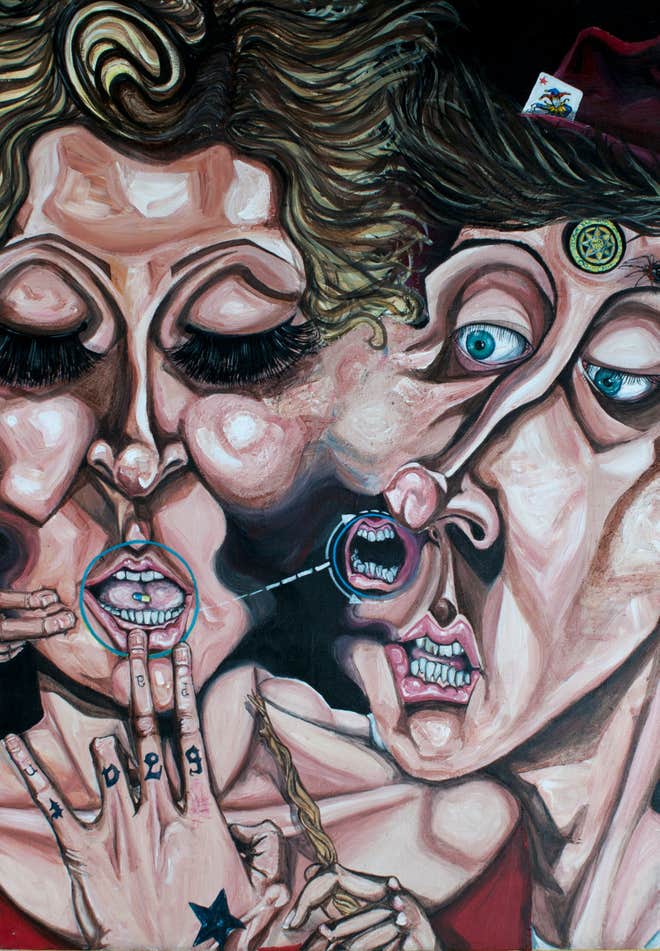 "The Anticipation of a Kiss" by Charlotte Wokes
Related Articles:
Melanie, victim of a flawed system
Stolen Lives and Missed Opportunities
Police Custody: the Last Resort
Glen Parva: a concerning institution
The Stolen Year: Katinka's Story