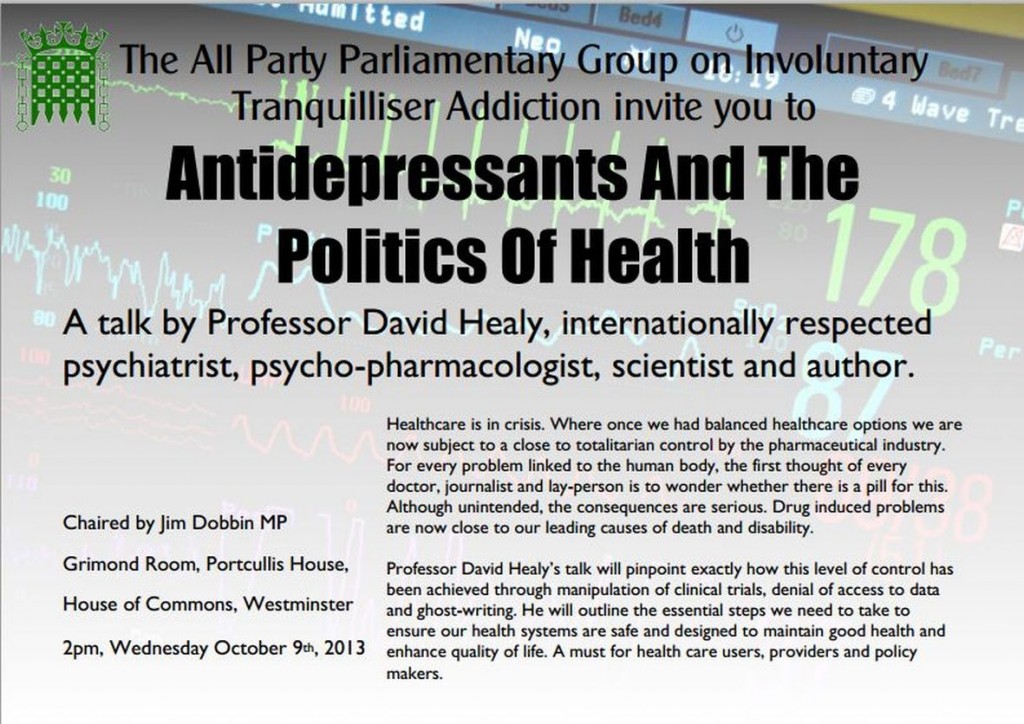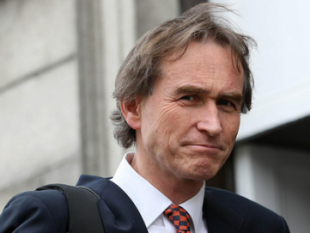 I was privileged to have been invited by APPGITA to a talk yesterday by Professor David Healy (left) on Antidepressants and the Politics of Health at the Houses of Parliament in London.
David has devoted a large part of his illustrious career to research in the subject of psychiatric medication, acquiring a depth of knowledge that is probably unequalled by anyone else in the world.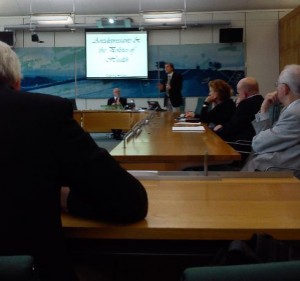 In his presentation (right), David explained how the pharmaceutical companies contrive to manipulate the results of clinical trials in order to exaggerate the benefits of drugs and to conceal adverse side-effects, such as suicidal thoughts.
David emphasised the need for greater transparency, particularly in the light of a recent parliamentary report on the need to gain greater access to clinical trial data. Unfortunately, it would appear that, in this report, the Government have accepted the model favoured by UK-based company GlaxoSmithKline (GSK). The report contains the following summary recommendation:
"We are not in favour of placing anonymised individual patient-level data (IPD) in the public domain in an unrestricted manner…  specific individuals should be provided with controlled access to IPD through carefully managed and secure "safe havens". Access should be facilitated by an independent gatekeeper responsible for ensuring that the data … makes a useful contribution to scientific understanding".
As David explains on his website, "This is GSK's preferred way to deny access to the data written into a House of Commons recommendation. In practice … GSK are offering an opportunity for voyeurism rather than the full-bodied engagement with the data that is science."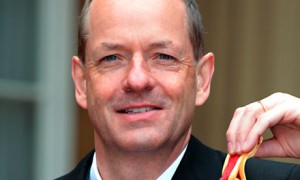 So while GSK, under the leadership of the recently-knighted Andrew Witty (right), appears on the surface to be in favour of increasing data transparency, it is actually employing tactics that make it impossible to establish what their data actually shows.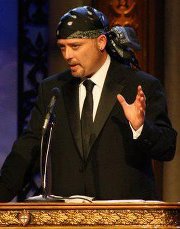 The occasion also gave me the opportunity to meet, for the first time, several wonderful people in the invited audience who are, in their own ways, raising awareness of the dangers of antidepressants and of the system that allows corruption to flourish. These included Leonie Fennell*, who had travelled from Ireland for the talk, author Bob Fiddaman* (left), and representatives from the pro-active mental health watchdog CCHR UK.
Specific invitations to the talk had been issued to GSK, and also to the UK's Pharma-funded regulator of medicines, the MHRA. Unfortunately, neither body was represented in the audience.
* Bob Fiddaman's account of the meeting can be read here, while you'll find Leonie's exposé here
Related Articles:
The Council for Evidence-based Psychiatry
How Antidepressants Ruined Luke's Life
Mental Health Disability: the Antidepressant Connection