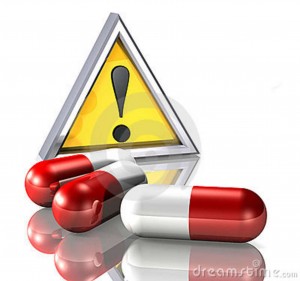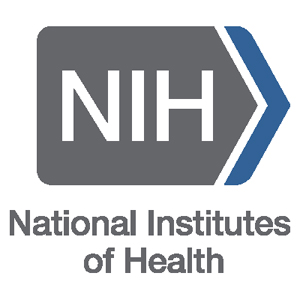 The National Institutes of Health (NIH) is an agency of the United States Department of Health and Human Services (HHS)and is the primary agency of the United States government responsible for biomedical and health-related research.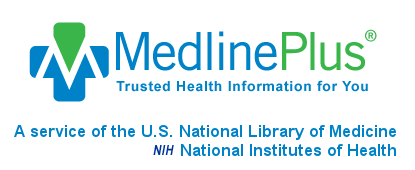 So when the NIH hosts an "IMPORTANT WARNING" on its website, it has the weight of the U.S. Department of Health behind it, which makes it absolutely official. This can be found on the NIH sub-site called MedlinePlus, which provides consumer health information for patients, families, and health care providers. This brings together information from the NIH, the  U.S. National Library of Medicine, other U.S. government agencies, and health-related organisations.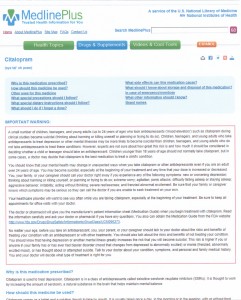 I typed Citalopram into the Search box, and clicked on the first result. This linked me to a detailed, informative page which was headed Citalopram, and below which was a list of FAQs with links, followed by an "IMPORTANT WARNING". So important, in fact, that it was set in a box that was edged with two red lines. The warning read:
A small number of children, teenagers, and young adults (up to 24 years of age) who took antidepressants ('mood elevators') such as citalopram during clinical studies became suicidal (thinking about harming or killing oneself or planning or trying to do so). Children, teenagers, and young adults who take antidepressants to treat depression or other mental illnesses may be more likely to become suicidal than children, teenagers, and young adults who do not take antidepressants to treat these conditions. However, experts are not sure about how great this risk is and how much it should be considered in deciding whether a child or teenager should take an antidepressant. Children younger than 18 years of age should not normally take citalopram, but in some cases, a doctor may decide that citalopram is the best medication to treat a child's condition.
You should know that your mental health may change in unexpected ways when you take citalopram or other antidepressants even if you are an adult over 24 years of age. You may become suicidal, especially at the beginning of your treatment and any time that your dose is increased or decreased. You, your family, or your caregiver should call your doctor right away if you experience any of the following symptoms: new or worsening depression; thinking about harming or killing yourself, or planning or trying to do so; extreme worry; agitation; panic attacks; difficulty falling asleep or staying asleep; aggressive behavior; irritability; acting without thinking; severe restlessness; and frenzied abnormal excitement. Be sure that your family or caregiver knows which symptoms may be serious so they can call the doctor if you are unable to seek treatment on your own.
Your healthcare provider will want to see you often while you are taking citalopram, especially at the beginning of your treatment. Be sure to keep all appointments for office visits with your doctor.
The doctor or pharmacist will give you the manufacturer's patient information sheet (Medication Guide) when you begin treatment with citalopram. Read the information carefully and ask your doctor or pharmacist if you have any questions. You also can obtain the Medication Guide from the FDA website: http://www.fda.gov/Drugs/DrugSafety/InformationbyDrugClass/UCM096273.
No matter your age, before you take an antidepressant, you, your parent, or your caregiver should talk to your doctor about the risks and benefits of treating your condition with an antidepressant or with other treatments. You should also talk about the risks and benefits of not treating your condition. You should know that having depression or another mental illness greatly increases the risk that you will become suicidal. This risk is higher if you or anyone in your family has or has ever had bipolar disorder (mood that changes from depressed to abnormally excited) or mania (frenzied, abnormally excited mood), or has thought about or attempted suicide. Talk to your doctor about your condition, symptoms, and personal and family medical history. You and your doctor will decide what type of treatment is right for you.
This warning is followed by a series of paragraphs:
Why is this medication prescribed?
How should this medicine be used?
Other uses for this medicine
What special precautions should I follow?
What special dietary instructions should I follow?
What side effects can this medication cause?
What should I know about storage and disposal of this medication?
In case of emergency/overdose
What other information should I know?
The information provided beneath each heading is comprehensive, and clearer than any Patient Information Leaflet (PIL) for Citalopram that I have seen.
The same format is used for other antidepressants, such as Paroxetine (Seroxat), Fluoxetine (Prozac), Sertraline, Mirtazapine and Amitriptyline.
What concerns me is that there appears to be no equivalent British website.

I googled Citalopram, and the 1st result led me to the relevant page on Patient.co.uk. Looking for a suicide warning, the nearest I found occurred way down the page, in the 4th section, entitled "Getting the most from your treatment". The 9th bullet-point out of 10 states: "While you feel depressed or are taking citalopram, you may have thoughts about harming yourself or ending your life. It is very important that you tell your doctor about this if it happens."


Result no. 2 linked to The NHS Choices site. Here the Overview section states: Some people who take Citalopram hydrobromide may find that it intensifies depression and suicidal feelings in the early stages of treatment. These people have an increased risk of self-harm or suicide in the early stages of taking Citalopram hydrobromide. As Citalopram hydrobromide starts to work these risks decrease.
If you are taking Citalopram hydrobromide, or you care for someone who is taking Citalopram hydrobromide, you need to look out for changes in thoughts or behaviour that could be linked to self-harm or suicide.
If you notice any of these changes or are worried about how Citalopram hydrobromide is affecting you or someone you care for, you should contact your prescriber, a mental health professional or NHS Direct as soon as possible.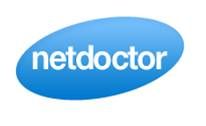 Result no. 3 linked to NetDoctor. Here, at least, there was a section entitled "Warning!"
However, the first warning was that Citalopram "may reduce your ability to drive or operate machinery safely," and the second was to "avoid drinking alcohol." The third warning stated: "Depression and other psychiatric illnesses are associated with an increased risk of suicidal thoughts, self-harm, and suicide. You should be aware that this medicine may not start to make you feel better for at least two to four weeks. However, it is important that you keep taking it in order for it to work properly and for you to feel better. If you feel your depression or anxiety has got worse, or if you have any distressing thoughts, or feelings about suicide or harming yourself in these first few weeks, or indeed at any point during treatment or after stopping treatment, then it is very important to talk to your doctor."
This advice is not only misleading, but dangerous. When a patient has an adverse reaction to an antidepressant leading to suicidal ideation, the advice should not be to "keep taking it", but as the NIH advises: "You, your family, or your caregiver should call your doctor right away."
When a person takes their life after a week or so after prescription of antidepressants, the manufacturers have been known to contend that the victim must have had an underlying, unreported severe depression. They absolve themselves of blame on the grounds that their product does not start working properly until after two to four weeks. NetDoctor's advice echoes this stance fairly closely.
It is appalling to realise that somebody undergoing an adverse reaction to an antidepressant in the UK cannot find an official suicide warning that is adequately worded and displayed.
While thousands of people each year in the UK are taking the lives of themselves and/or others while under the influence of antidepressants, the Department of Health and the Pharma-funded MHRA continue to do nothing to help rectify the situation.