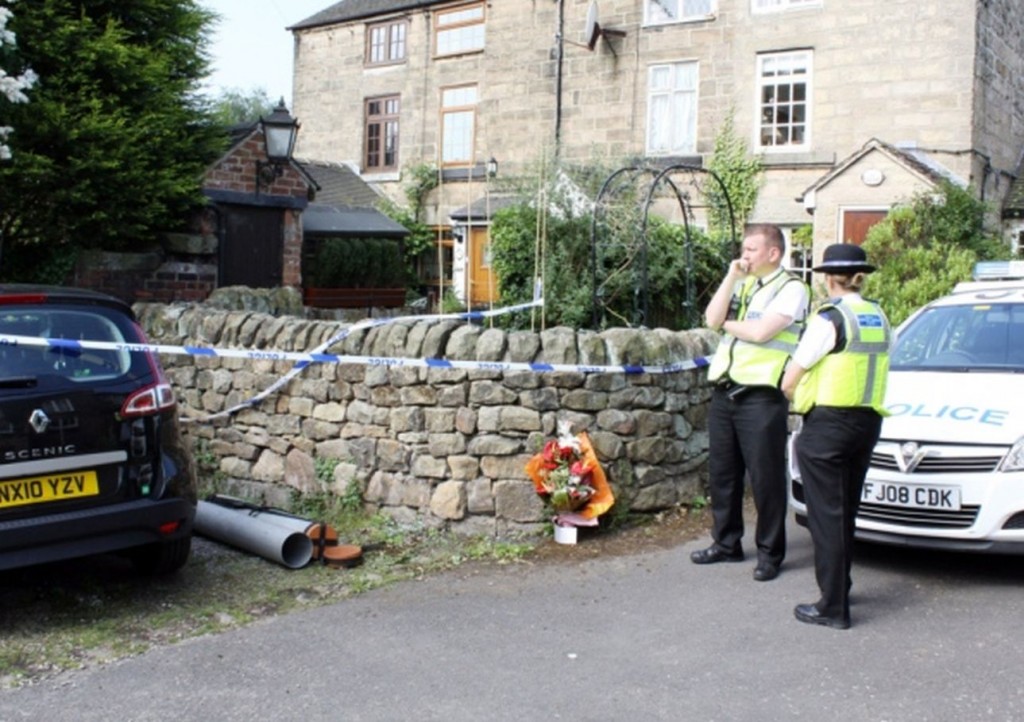 On June 2nd 2010, Police were called to a house in Holbrook, Derbyshire, where they found 3 bodies in the sitting-room.
On September 12th of this year, coroner Dr Robert Hunter opened the inquest into the deaths of Andrew Cairns, a 44-year-old golf instructor, his pregnant ex-partner Rachael Slack, 38 and their 23-month-old son Auden (below).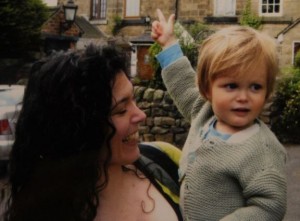 On the first day of the inquest, the jury learned that Rachael had been stabbed with a knife 32 times, Auden had 16 stab wounds, and that Andrew had died from 18 stab wounds to the chest.
Professor Rutty, the forensic pathologist who attended the scene, said the case was similar to others he had worked on in which a man murders members of his family and positions himself beside or on them as a 'last act … to be with the person.'
The most significant fact given to the jury on day 1 was that Andrew Cairns was on antidepressants.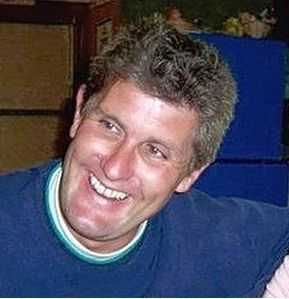 As the inquest proceeded, it was established that Andrew (right) had been known to mental health services for "a considerable number of years". Rachael and Andrew had separated 18 months before the tragedy, although Rachael allowed Andrew regular access to their son Auden. In the meantime, Rachael had found a new partner, who was the father of her unborn child.
5 days before the tragedy, Andrew was arrested for making threats to kill Rachael, an act that was completely out of character. He was questioned, then released while officers made further inquiries. He was bailed with conditions not to contact Rachael, and a file assessing her as at high risk of homicide was sent by police to social services. The police did not warn Rachael directly. The custody sergeant who released Andrew said there was nothing about his behaviour to make him think "anything dramatic might happen."
On September 23rd, Andrew's GP Dr Michael Small told the inquest that he saw Andrew on the morning of the tragedy. He said: "He was holding on to a photograph of Auden and kept repeating that he wanted to be involved in his care … He told me that Rachael was not allowing him access. She had got her own family. But I did not think there was sufficient reason for me to be concerned about risk of harm to himself or others at this time." The GP also told the inquest that Andrew had wanted to stop his medication as a result of side-effects but his GP advised him not to and a plan was put in place to gradually reduce it. Another report on the consultation stated that "He came in agitated and anxious but he appeared calmer when he left. He popped his head back to go through what the 'reduction regime' for his medication was."
Neither of the reports gave details of the antidepressants, their dosage, or the nature of the "side-effects" which Andrew was experiencing. Whatever they were, they must have been discomforting Andrew sufficiently for him to want to stop his medication. Any possible reasons why Andrew had begun the actual morning of the tragedy in an "agitated and anxious" state do not appear to have been explored any further. Any possible role in this tragedy played by antidepressants was, at this point of the inquest, swept under the coroner's carpet.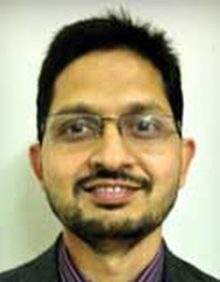 A week later, the jury heard from Andrew's consultant psychiatrist Dr Nitesh Painuly (left), who said that he had seen Andrew between early 2009 and March 2010, and that during this time Andrew had a number of episodes when his depression had got worse. Andrew's treatment involved antidepressants and psychotherapy but Dr Painuly said that, in March 2010, Andrew stopped engaging with the mental health trust. He said the last time he saw Andrew was on March 22, 2010, when he did not show "clinical signs of depression". He said he was "very angry about the treatment we had been giving him … He said 'you are not giving me scientific treatment'," the doctor told the inquest, adding that Andrew wanted a CT scan because he felt they were missing something.
Later in the inquest, clinical psychologist Dr Andrew Raynor said that Rachael had attended several of Andrew's therapy appointments with him. He said that Rachael had raised concerns about Andrew's dependence on others. Dr Raynor said: "She said she felt like she had two children." He added that Andrew was "very much focused on his adult life period beginning with the loss of his mother, pinpointing this as the start of his depression."
Dr Raynor said that, in his dual role as a care co-ordinator, he would occasionally visit Andrew at his home if he felt unable to leave the house. He said: "His house was very orderly and quite sparse. I tried to start working on his anxiety problems. He was becoming stressed and asked if I could leave. He was very measured and very polite, he wasn't aggressive or anything."
Dr Raynor said that Andrew was treated with antidepressants and practised mindfulness, a type of meditation, and that his mood seemed to have improved: "He seemed positive. I felt in the lead-up to Christmas there were signs that the anxiety problem was improving. He was looking at doing voluntary work."
But when Dr Raynor visited Andrew's home later that same month, he found him in a depressed state. He said: "He was unshaven, in his pyjamas and looked very down. He said he'd mostly been in bed for the past week. There was no explanation for this change. I had a feeling something else was going on at the time, but he couldn't identify what it was or didn't feel he could tell me."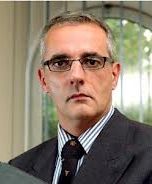 On Thursday October 17th, coroner Dr Hunter (right) began summing up the case to the jurors. He continued his account on Friday, during which he summarised the evidence of a total of 9 witnesses who had been involved in Andrew's mental health care in the last couple of years of his life. He reminded the jury that Andrew was twice admitted to a psychiatric ward and had received antidepressants and psychotherapy.
Dr Hunter concluded his summing-up on the morning of Monday October 22nd. He told the jury that they could deliver a narrative conclusion, for which it must consider questions regarding the conduct of police in the case. They were to consider whether they were satisfied that "it is more likely than not that there was a failure on the part of the police."
In Dr Hunter's summing-up, estimated at about 40,000 words, there was no reported reminder to the jury of Andrew's visit to his GP on the morning of the tragedy, during which he was said to have arrived in an "agitated and anxious" state, and during which he said he "wanted to stop his medication as a result of side-effects."
It is not clear from newspaper reports whether Dr Hunter made the jury aware of the significance of the evidence of the mental health professionals involved in Andrew's care, who talked about changes not only to his dosage, but also to the type of antidepressants prescribed. This would have contributed immeasurably to Andrew's volatility. The involvement of antidepressants remained buried under the coroner's carpet.
This afternoon, the jury returned the verdict that Rachael Slack and her son Auden were unlawfully killed by her former partner Andrew Cairns and that a failure by the police to tell her of the high risk to her life was a contributing factor. The inquest also ruled that Andrew Cairns took his own life.
Elsewhere on this site, the Homicides page lists more than 200 people in England and Wales who, at some time in the past 10 years, have killed after having been prescribed antidepressants.
Criminologists use the term "Family Annihilation" where parents deliberately kill their child(ren), may kill or attempt to kill their partner and may attempt or complete suicide in one individual killing event. I have featured several examples in the article Family Annihilation and Antidepressants.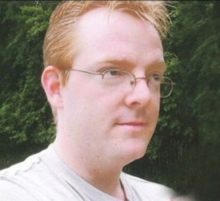 At a number of recent inquests, like that of Ceri Fuller (left), toxicology results and medical histories have not been reported to the public at large. Significantly, however, I have yet to find an example of Family Annihilation where psychiatric medication has been ruled out.
It is probable that the side-effects of Andrew's medication were discomforting him at the time when the Police arrested him for threatening to kill Rachael. We know now that by this time there had been changes in both the type of medication and the dosage. Perhaps Andrew was not taking his medication regularly. This would have been enough for Andrew's state of mind to have been altered significantly. With this information, the Police would possibly have been able to appreciate the importance of taking measures that would help Andrew and protect Rachael.
Whenever I have spoken to groups of people about the side-effects of antidepressants, I have been aware of the general lack of knowledge in my audience. It is unclear how much explanation was given to the jury as to how the changes to both the dosage and the type of medication could have induced extraordinary changes in Andrew's state of mind. It is also possible that Andrew was attempting to withdraw from his medication, which would have put him even more at risk.
In this particular inquest, we are not given any reason why a man with no previous history of violence, and no mental illness apart from "depression", should suddenly kill, in the most violent manner, his ex-partner and the son upon whom he doted. The only possible explanation that I can think of is an extreme reaction to the changes in his medication.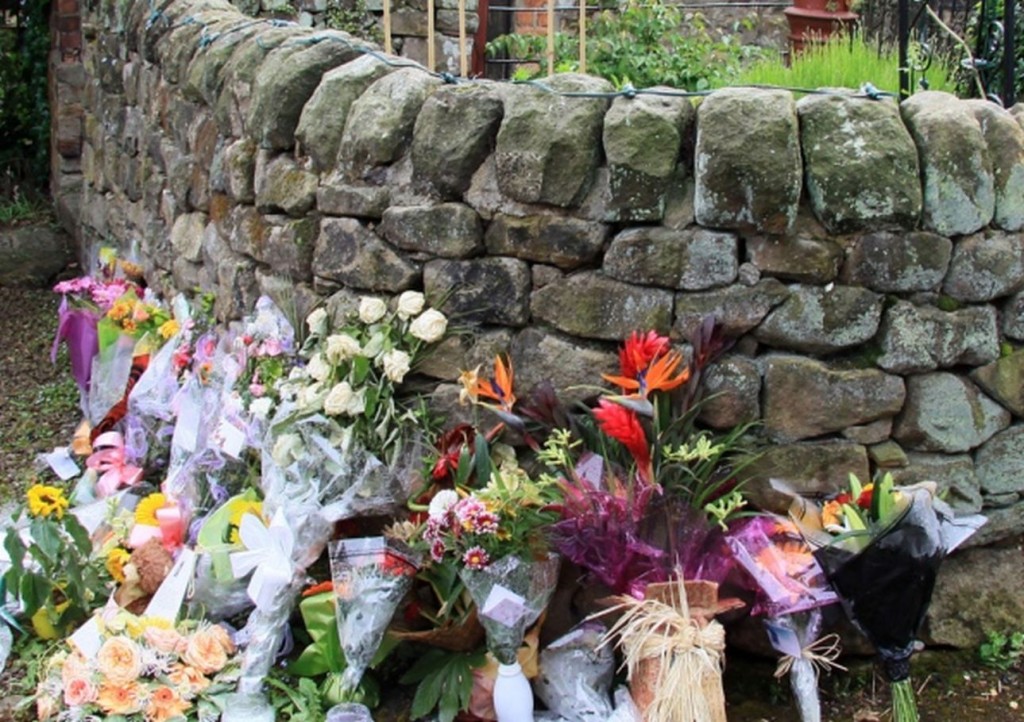 Footnote:
In January 2014 Derbyshire Safeguarding Children's Board published a Serious Case Review of the incident. It revealed that, for the last two years of his life, Andrew was prescribed a variety of antidepressants, including Fluoxetine, Duloxetine and Mirtazapine.
Related Articles
A Bus, a Plane, a Truck and a Gun
Family Annihilation and Antidepressants
Homicide/Suicide: in Search of a Motive
No Justice in Bray … or Carlow
"We need this now, before more people die"