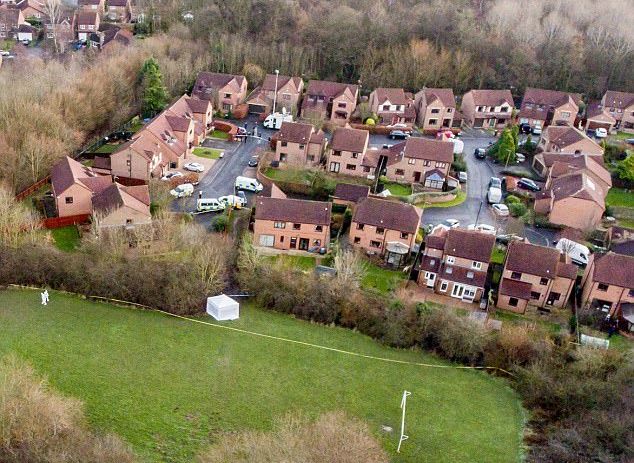 On January 9th this year, at about 4:20 in the afternoon, Mrs Mills was returning home from taking her dogs for a walk when saw two girls lying on the grass together on the field near her home in the Woodthorpe area of York. As she passed by, both girls got up. They appeared to be playing happily.
15 minutes later, Mrs Mills' husband Peter returned home, and came across a distressed teenage girl, covered in mud, talking on the phone near their home. She was making a 999 call to North Yorkshire Police to tell them that a girl was dead on a nearby field, and she had to ask Peter where she was. Peter called his wife for help, and Mrs Mills recognised the girl as the older of the two girls she had seen earlier.
Mrs Mills looked after the teenager in her home, while Peter ran to the field (top). He saw a young girl beyond the entrance, lying on her back. Her face was covered in blood. He attempted to find a pulse or signs of breathing but with no success. He covered her with his coat and ran back to the house and got his wife to call an ambulance.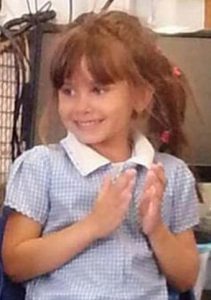 In the meantime, Alison Rough was beginning to be concerned that her 7-year-old daughter Katie (right) had not come home, and was walking in the area, calling her name. There was no response.
At exactly 4.47pm, 13 minutes after the girl had called the police, Alison dialled 999 to report Katie missing. The operator told her that there had been a report of a crime at the field and she went there immediately with her husband Paul. A police officer was just in front of them. He started chest compressions but Katie's position revealed substantial deep cuts to her neck and chest.
Upon seeing the blood in Katie's hair, Alison started to scream. She tried to cradle Katie's head and the officer led both parents away in considerable distress.
Paramedics arrived quickly but there was little they could do. After working on her body for several minutes they rushed Katie to York Hospital where she was declared dead. Post-mortem results showed that Katie died when a gloved hand was held over her face to suffocate her, and that cuts to her neck and torso had been inflicted after death.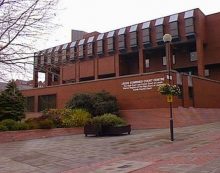 Yesterday, the 16-year-old girl, who cannot be named, appeared by video link at Leeds Crown Court (left). She had originally been charged with murder, but her plea of guilty to manslaughter by diminished responsibility was accepted by the prosecution.
The court heard that  the girl, who was 15 at the time of the killing, had been detained at the Mills' house. The arresting officer said that she appeared upset and was crying and that she appeared to be in shock.
"All she would say is she had been on the field. She was asked if she had been in an argument, she said 'no'. She was then asked if she had any weapons. She produced a red Stanley knife from one pocket and two spare blades were found in another pocket when she was searched. A blood-stained green glove was found in the pocket of her hooded top. The Stanley knife was blood-stained and it later tested positive for Katie's DNA." It was later established that the Stanley knife had been taken from the girl's grandmother's kitchen.
When officers searched the girl's bedroom later, they found a toy Simba from the film The Lion King, with "its ears ripped off and stuffed inside the animal's chest through a large gash."
On January 11th, two days after the killing, police officers interviewed the girl's friend at school. She told them that the girl "thought people were out to get her and she heard voices in her head, telling her to hurt other people and herself."
She also told them that, days before the incident, the girl had posted an Instagram picture showing self-harm to her arms, and which read: "Mentally, seriously, not okay."
The court heard that the girl's mental health had deteriorated in the months leading up to the killing. She had been self-harming and was under the care of Child Adolescent Mental Health Services (CAMHS). The teenager was prescribed Fluoxetine for anxiety and depression in December 2016, even though she had not been given a full psychiatric assessment.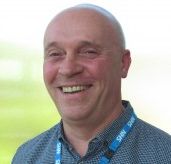 A report by psychiatrist Dr Barry Chipchase (right) stated that: "She appeared to be reasonably content at home and was doing well at school until the start of 2016. She lost most of her friendship group, she developed an interest in the macabre and started harming herself with a blade and reported being very upset and having suicidal thoughts. She was having thoughts that other people weren't human and they were robots."
The psychiatrist concluded that: "She was suffering with delusional thoughts and was suffering from emerging schizotypal personality disorder." He did not think she was suffering from schizophrenia.
It must be remembered that, as Dr Chipchase diagnosed the girl some time after the killing, her mind would have been altered significantly, not only by Fluoxetine, but by any other psychiatric drugs that she may have been given by those who were "treating" her while she was in custody.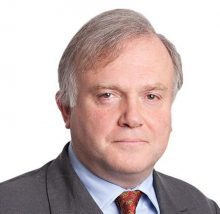 Judge Michael Soole (left) adjourned sentencing until a later date, saying that he wanted more questions answering by the medical experts before he could pass sentence.
Elsewhere on this website, you will find articles or news items, like those below, which report on tragedies that have occurred where, totally "out of the blue" and without warning, one person has been killed by another.
In many of these articles, the victim was the beloved parent, partner or child of the perpetrator.
And, in every case, the perpetrator had no previous history of violence, until prescribed either Fluoxetine or other similar antidepressants, such as Citalopram, Sertraline or Seroxat.
Perhaps what the judge should be considering is not the length of the sentence, but the type of help that can be given to this 16-year-old girl who has had her mind scrambled by drugs that she should never have been prescribed.
Update (Nov 24th 2017):
Today, the girl was given a life sentence with a minimum detention of five years.
The court heard that experts could not agree a diagnosis of the girl's mental disorder, nor decide how long it would take before she could no longer be considered a danger. The judge was told this was because she had failed to engage with doctors.
Psychiatrists explored whether she was suffering from a depressive disorder and there has also been a concern she was suffering from an emerging schizo-type personality disorder. One expert had said: "There is no clear means of protecting the public other than continued detention."
Nobody appears to have pointed out that, as in so many other cases, the girl's irrational, out-of character behaviour was probably the consequence of akathisia, induced by her medication.
Related Articles:
Family Annihilation and Antidepressants
Homicide/Suicide: in Search of a Motive
Metabolism, Antidepressants & Violence
No Justice in Bray … or Carlow
Sanjay, Sonita and Unanswered Questions