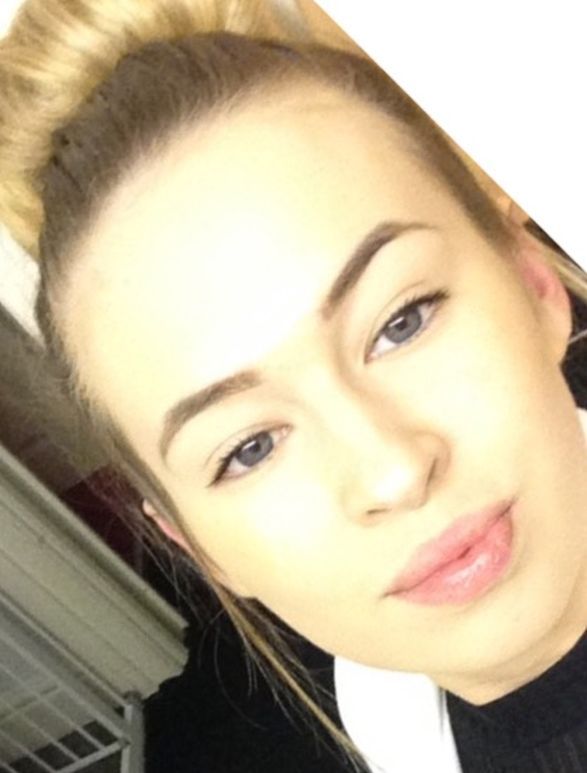 On June 8th last year, I read a report in the Manchester Evening News, following the inquest of 18-year-old Heather Blower (top). On December 27th 2015, Heather had been found by her twin sister Heidi, hanged in her bedroom. Following this, I wrote a summary of the inquest as a news item.
Last month, I was contacted by Heather's mother Paula, who had found my report after searching for Heather's name on Google. We exchanged e-mails, and Paula told me the shocking background to Heather's death. She agreed to let me publish her story.
These are Paula's words:
In December 2014, I noticed some scratches at top of Heather's arms. I asked her, "How have you done that?" She replied that she didn't know.
A week or so later I returned from work. Heidi told me, "Heather's scratching her arm." I asked her and made her show me. It looked sore but not cut or anything.
I asked Heather: "What's wrong? What's going on?" She replied that she was ok. I told her I would take her to the doctor's in the morning, and I phoned the twins' dad to tell him.
Heather did not want to go in the morning, but said she would go with her dad in the evening. When they turned up, the GP told them off for making the appointment, as evening appointments were supposed to be for emergencies. The doctor said to Heather, "Let me see your arm."
Heather was upset by the GP's attitude, and her dad said to the GP, "Please don't speak to my daughter like that; we couldn't get her to come this morning." The doctor said he would refer her to CAMHS. When she got back home, Heather said she would never go there again.
Anyway, the referral came. I took her to see a psychiatrist at CAMHS in February. She asked Heather questions that she read from her computer. At one point Heather asked: "Can you stop staring at me?"
I told her Heather had anxiety since she was about 15 (She was 17 by now). The psychiatrist took me to another room and told me she was prescribing Fluoxetine as Heather had depression, and to keep the tablets away from Heather, along with anything in the home she could harm herself with, like belts, knives, tablets, etc. I burst into tears. I couldn't believe what she was saying. She said it was very important she took her meds everyday, early morning, and she gave us our next appointment.
Each morning, before I left for work at 6am, I'd wake up Heather to take her tablet. If only I'd known what I was giving my own child, slowly killing my baby.
After about four weeks of taking meds, one night in March, Heather seemed a bit strange so I got into bed with her. She started asking what Heaven's like. She said she wanted to go, that this world was not meant for her. She told me how she wanted a song I'd not heard played at her funeral. She said: "Play this at my funeral and it will make Heidi and my friends smile."
I asked her what was wrong, but she was smiling, singing the song over. "Mum, after a few months you'll get over me and you won't have to put up with me."
I replied, "Oh, Heather, it would destroy me and all of us forever. We'd never get over it. Please don't ever say or do things like that." I told her how special she was to me and that she was my perfect girl.
We lay in bed. I must have dozed off because it was 3am when I heard: "Mum, I'm sorry! I'm so sorry!"  I opened my eyes to see her hands, her pyjamas and the bed covered in blood. I grabbed a towel and wrapped it around her wrist to stop the bleeding. I got stuff to clean it up and I told her we had to go to A&E. She was reluctant, but I knew it was quite bad.
Heather said, "I'm sorry. I wanted to die, then when I did it I thought: 'Oh my God, what have I done?' But I wanted to die, I don't know what's up with me."
At A&E, she was seen by a psychiatrist. I told her she'd been on antidepressants for about four weeks – I was told to keep her on them. Heather had an operation and was discharged, and was told they'd inform her psychiatrist and GP.
Heather now had a new GP, as she refused to go back to our old one. The psychiatrist at CAMHS saw Heather and myself again. She asked her about it and told me to keep giving her Fluoxetine, so I did. Heather seemed a little better over next few months, although at times she would have a stare like she was somewhere else.At the beginning of September, I was worried and decided I'd slowly stop her meds.
By the end of October she'd stopped them completely. She no longer self-harmed, she was doing well and looked happier. She started going on nights out with Heidi and their friends. In all this time, she was refused sickness benefit because she failed to attend the job centre. She couldn't go because of her anxiety. Anyway, her cousin Holly appealed and they wanted a sick note.
Towards the end of November 2015, Holly went with Heather to the GP, as I was working, to ask for a sick note as Heather had anxiety. Holly did the talking for her and explained why she needed a sick note. The doctor gave Heather a prescription for Fluoxetine again and referred her for counselling. The appointment came through for January, after her death.  Heather told me he gave her a prescription, but she was not going to take them. She said that she had to have the script, so the job centre would pay her, and said that her benefit was being backdated. Again, it came after her death.
I didn't know she was taking the pills again until after her death. She used to send her friend for her repeat script.  By this time, Heather had missed (I think) three appointments with the psychiatrist at CAMHS and they'd discharged her.
We'd had a good few months and a really nice Christmas at my family's, but Heather had that look in her eyes that night. I remember thinking I was a bit worried, so we went home. Heather and Heidi went to bed. I was chatting in their room. They said they were going out the next night. Heather asked: "Mum, can I borrow some money? I'm getting my benefit in a few days." I told her yes.
It was planned that my two sisters and I would go to my dad's house and stay over the following night. We used to always stay at weekends after my mum died in 2009, but since Heather became ill I never did. This time I promised I would.
The twins were getting ready. Heather was sat on her bed doing her make-up; she was so happy she was going out with Heidi and Shannon, their best friend. I felt uncomfortable leaving them all night even though they were now 18, and Shannon was also sleeping at ours and was a sensible girl.
I gave Heather the money, and she said, "Aw, thanks Mum. When I get my money, I'm giving most of it to you." I told her I didn't want it. She promised not to have much to drink, and we said, "Goodbye, love you." That was the last time I saw her alive. Her friends said that she was happy, bubbly, and that she didn't have many beers.
Heidi was going on to a party and split up from Heather and Shannon, so they went home, got in bed and they watched a film. I'd been texting them through the night. At about 3am, Heather said they were going to sleep, so we said night-night. I didn't sleep well, but I was in bed at about 9.30 when we were woken by the police to tell me that my beautiful, strong, perfect girl had taken her life by hanging.
I found out later that Shannon had got up and decided to go home at 6.10am. Heidi and her friends returned home about 8:30am. Heidi went in the bedroom to wake her sister and found her. They took Heather down – she had hanged herself from the top cupboard. They phoned 999. One of the boys tried to resuscitate her, as Heidi held her inseparable twin and closed her eyes.
Our lives turned upside down. We were all broken. There were so many "if only"s.
Two days after the funeral I had to go to the town hall to write a statement. I was given Heather's note that said  "Sorry XXX" and the PIN to her phone.
The inquest came. I didn't want to go but was told I had to. I was in such a state, all I could think about was the dressing-gown belt around my daughter's neck, then her lying in the morgue, then her coffin, then a pile of washing on her bed, then my birthday in October when Heather was out with me and we had a really nice night out.
All that mixed up in my mind and I said to the coroner something about Heather in the bedroom with a dressing-gown belt in October, and they told me it wasn't in my statement. I am in turmoil over this, as it was all mixed up in my mind. I'd messed Heather's inquest up, I let her down and I really was so angry with myself. I wish the inquest had been later – I'd have shouted out all I know now. The last GP Heather had was the only medic at her inquest. He said that although Heather was quiet, he had no idea she was suicidal.
I then started to read stuff. I became obsessed day and night. The mental health early intervention team had started coming weekly to see Heidi, trying to give her antidepressants. I told them: "No, she's not having them, they killed Heather!" I kept saying no.
The mental health nurse said: "We've had a meeting. Our psychiatrist is coming to see you and Heidi. Please don't take this the wrong way, but the psychiatrist thinks it will be a good idea if we put Heidi in a flat because you're stopping her having antidepressants and getting well."
I was crying. I was confused, made to feel I was a bad mother, as if I wasn't bad enough not refusing them for Heather. A week later the psychiatrist, the mental health nurse and a bereavement counsellor sat in my living room with Heidi and myself trying to convince Heidi to take them. Heidi said: "Well, yes, I want to get better so I'll try them."
I went crazy: "No, how dare you come here, ignoring me, asking my daughter to take them?" They replied that she was an adult, so it wasn't up to me. I asked Heidi to leave the room, and shouted at them, "You're not giving my daughter antidepressants. They killed Heather. I'm not losing another child."
They tried to make me feel so irresponsible, they even said: "Well, if she doesn't have them, how will you feel if she takes her life? She needs something." The psychiatrist said she would get a pharmacist to come and explain about antidepressants so I would understand.
I still refused and said: "I don't care that she's now 19 – I'm her mum and I am not losing another child to suicide caused by your antidepressants." It all went quiet for moment. They were all looking at me, and I said, "I'd like you all to leave now."
The psychiatrist looked into my eyes and said, "I'm sorry you feel that it's your fault because you gave Heather the tablets." They went, and never tried to see Heidi or give her drugs again, as they knew I was not going to change my mind.
Heidi got good care without meds. She is still a bit low but she's doing much better, and she's alive. We both still don't really go out much. Our lives changed forever after our beautiful Heather was taken from us by antidepressants.
Heather was initially given antidepressants, completely contrary to NICE Guidelines, simply because of responses given to a dodgy computerised quiz. This program was probably the PHQ-9 Patient Health Questionnaire, described as an easy-to-use, nine-question form, and which sets the threshold extremely low, resulting in patients being wrongly diagnosed, medicated, and thereby put at risk. The program was produced by Pfizer, makers of antidepressants Sertraline and Venlafaxine.
When Heather was starting to have suicidal thoughts and then cut her wrist after four weeks on Fluoxetine, Paula (below, with Heather) took the sensible option of gradually tapering her dosage until she was free of the drug.
Heather was re-prescribed Fluoxetine simply because this was a condition of her receiving sickness benefit. The doctor took no account of Heather's previous adverse reaction to the same drug. The tragedy is that Paula did not know that Heather had started to take them again shortly before her death.
Heidi was not depressed – she was grieving and traumatised. What I find absolutely reprehensible is the attempt of the mental health team to bully her into taking the same drugs that were responsible for the loss of her beloved sister, and to threaten to re-house her if her mother would not agree to this course of action.
Fortunately, Paula stood up to the bullies. She is a remarkable, courageous woman, and I thank her for allowing me to publish Heather's story.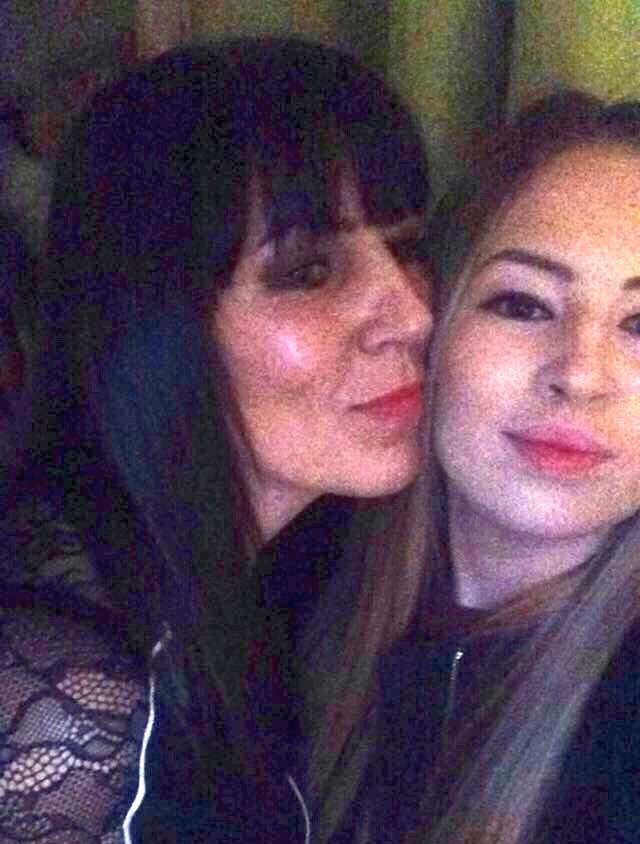 Further reading:
Mother Reveals Shocking Truth Behind Daughter's Death by Bob Fiddaman
Related Articles:
The Lost Children (2014, 2015, 2016 & 2017)
Why we shouldn't give Prozac to children
Were these children given Prozac?
Dana's Human Rights – and ours
Jake, Aged 14 (Part One & Part Two)