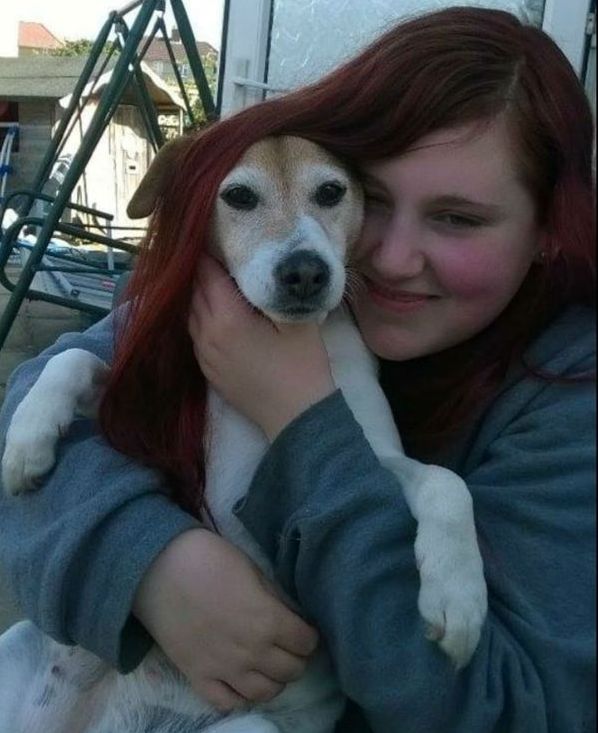 "She had just been prescribed a new drug, Fluoxetine, which could cause increased agitation and increased risk of self-harm."
On July 19th this year, 15-year-old Becky Romero (top) was found by her father Tony at her home in Bristol. She had hanged herself.
This week's three-day inquest heard that Becky had been treated by South Bristol CAMHS for depression, anxiety and self-harm for several years before her death.
She had been bullied at school, and was being educated at home. She had little contact with other children, except for friends in America whom she had met online. The inquest was told that Becky became obsessed with using her smart phone, reaching the point where she would sleep during the day to be up at night to speak with her American friends, because of the time difference involved.
When her relationship with one of her online friends broke down, she attempted suicide by taking an overdose of medication.
After a second attempt on her life in early June this year, Becky was admitted to Bristol Royal Children's Hospital.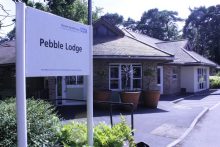 There were no appropriate places available at the Riverside Adolescent Unit in Bristol, but a place was found for her at the nearest available residential unit for adolescents, Pebble Lodge (left) in Bournemouth, 125 kilometres away.
A student nurse from Pebble Lodge told the inquest that Becky had made progress while she was there, talking more about her feelings, and that she had not self-harmed during the time she was there. On July 6th, less than four weeks after she was admitted, Becky was told she was going on weekend leave, but then at the last minute she told it might be extended, so she had to take all her belongings.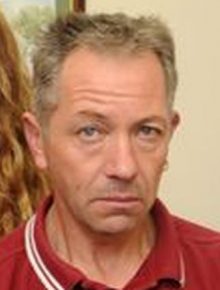 Tony (right) told the inquest that Becky was crying and did not want to leave Pebble Lodge, but was made to put all her belongings into black bin liners.
Becky's mother Nicola questioned why she was released from Pebble Lodge and said that her daughter didn't receive various "promised" treatments. These included cognitive therapy, anxiety management and acceptance and commitment therapy. Nicola was told that more formal psychology and psychiatry work had not begun with Becky because managers did not want to start that work and then have Becky moved back to Bristol when a bed at Riverside became available.
Dr Ellie Cullum, a clinical psychologist from South Bristol CAMHS, was appointed Becky's care co-ordinator. She had "treated" Becky a year earlier, but had not seen her since. She told the inquest: "We inquired whether a bed might become available at Riverside so she could transfer directly to there, or whether a day bed was available so that she could go there during the day and sleep at home at night, but none of that was available." Dr Cullum made arrangements for Becky to attend the hospital school, but did not realise that the school term would be ending within a matter of days.
After Becky had been back with her family for a few days, Pebble Lodge contacted Nicola to say that she was being discharged because she had got on well at home.
On the second day of the inquest, Tony said that he "couldn't believe" that clinical psychiatrist Dr Adrian Marsden had discharged her, despite being told she had self-harmed the night before and had suicidal thoughts. Becky was also telling her parents that she was feeling side effects of the new medication that she had been given before she left Pebble Lodge.
Tony told Dr Marsden: "You made a very bad judgement and that judgement was made when she had everything against her: she had just started medication, she had just three days left of hospital school. You should've done your job and kept her in and now I'm going to be sitting there this Christmas with my daughter's ashes underneath a Christmas tree outside."
Dr Marsden defended his decision, but admitted in hindsight he would have done things differently. He said: "I wouldn't have discharged her if I thought what happened was going to happen. I thought the focus had moved on to therapy rather than risk management."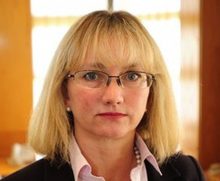 Coroner Maria Voisin (left) expressed concerns that Becky was not seen in person by anyone qualified in mental health in the two weeks between her being sent home and her subsequent death. The contact she had was by telephone – in which her mother did almost all of the talking – or visits from a support team set up by CAMHS made up of social workers, not mental health professionals.
The coroner also had concerns around the support in place for Becky, given she had just been prescribed a new drug, Fluoxetine, which could cause increased agitation and increased risk of self-harm. She pointed out that guidelines state that when Fluoxetine is prescribed in young people, they should be carefully monitored for side effects but, days after it was given to Becky, she was sent home and did not see a mental health professional face-to-face again before her death.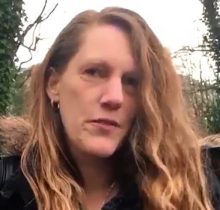 About a week after beginning to take Fluoxetine, Becky self-harmed, and Nicola (right) related the details to Dr Marsden in a phone-call. She confronted the psychiatrist in court, saying: "I told you 'Becky has cut her right arm 58 times in total' – 58 cuts in parallel lines and then a heart shape of cuts and the words 'My Fault' cut on her arm. I told you some of them were bleeding slightly, and I had asked Becky why she had done this and not told me, and she said she didn't tell me because I would've stopped her. I told you that I had managed to put Germolene on it and bandaged it all up, so it wasn't an immediate health issue. I told you all of this and what she had said, and you gave me no advice. I felt at that time you'd be able to do something."
But Dr Marsden, who was questioned repeatedly by Miss Voisin and the family over the course of the day, said he could not recall the conversation at all. "I don't recall it," he said. "This happened five months ago. I find it difficult to believe I wouldn't have taken it seriously. I don't recall that, and I would have assumed I'd have done something. I have no notes of this conversation."
Dr Marsden also said that, while he couldn't rule it out, he didn't think Becky's self-harming was related to the medication Becky had been put on a week or so earlier. Dr Marsden remained in denial, not only about the details of the conversation, but about the effects of the medication that had been prescribed.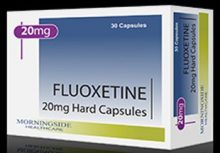 It is interesting to note that the prescription of Fluoxetine was described as Becky's "new medication". It raises questions about other medications which had been prescribed to her during the time she was in the care of South Bristol CAMHS. Whatever she was prescribed may well have exacerbated her low mood and/or induced episodes of self-harming over the years.
On the third and final day of the inquest, coroner Maria Voisin delivered her verdict. She ruled that Becky's death was accidental, in that it could not be certain that she intended to take her own life. However, she added that she died as a direct consequence of the neglect of the two health trusts, and their catalogue of failings.
There were no beds or places available at Bristol's only adolescent mental health unit, Riverside, around six weeks before her death. Instead she had to be sent to a Pebble Lodge in Bournemouth 125 km away.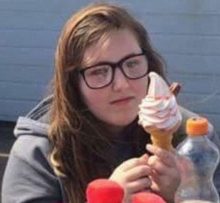 Having returned home from the unit, Becky (right) was not seen face-to-face by a medically-qualified mental health worker for 13 days until she died.
After the inquest, a spokesperson for Avon and Wiltshire Mental Health Partnership said: "We offer our sincere condolences to the family and friends of Rebecca Romero at this difficult time for them. We note the criticisms highlighted by the coroner and take them extremely seriously. The Trust will work closely with partner organisations to ensure greater communication and coordination going forwards, in part to respond to the coroner."
Becky's mother Nicola said she was relieved at the verdict: "I'm can't say I'm happy – that is the wrong word because my daughter is dead, but I do feel like this is the start of getting justice for Becky. She was failed. I was hoping someone would say 'we've done things wrong' because obviously we know that so many things were done wrong, so this verdict goes way above and beyond what I expected, and Becky's got a bit of justice today.
Tony Romero added that coroner Maria Voisin was: "The first person who has done her job properly. She's the first person who has noticed what has gone on, because nobody else in the organisation did."
Footnote: Two weeks after Becky's death, friends in Bristol held a vigil for her (below). They also raised over £1000 to help with her funeral.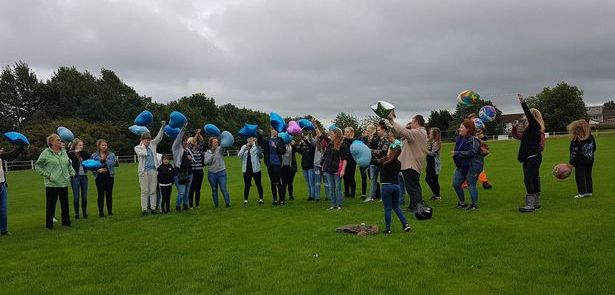 Update: On February 11th 2018, the Coroner's Regulation 28: Report to Prevent Future Deaths was published.
Update (July 25th 2018): Becky's mother Nicky appeared on BBC programmes Victoria Live (TV) and File on Four (radio) yesterday to talk about Becky and her treatment.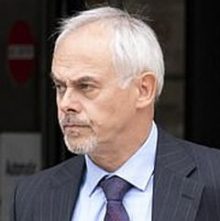 Update (June 6th 2020): It was reported yesterday that Adrian Marsden (right), the psychiatrist who was responsible for Becky's "bad treatment" at Pebble Lodge, pleaded guilty at Poole Magistrates' Court to charges of making indecent photos and possessing prohibited images of children. Police officers had found more than 2000 illicit images of children on his computer, including pornographic pictures of children as young as 8 years old.
Although he had been downloading the images since 2010, Dr Marsden cited the inquest of Becky Romero in 2017 as mitigation. His lawyer said: "He deleted some of the images as he knew what he was doing was wrong, but like a smoker who is trying to quit smoking who keeps some cigarettes he kept some. These, he looked at in times of trauma, such as when he was suffering depression in late 2017 and 2018 after being criticised at an inquest of a young person who took her own life."
Dr Marsden was suspended by the General Medical Council and has since retired. He avoided a prison sentence but was fined £2500 and given a five year Sexual Harm Prevention Order.
After discovering that Dr Marsden had used Becky's inquest as an excuse, her mother Nicky told a Bristol journalist: "How dare he use my child's inquest as an excuse to use child porn? Everybody gets stressed at some stage in their life and everyone manages to deal with it without resulting to that. I said he was a liar before and he has proved it again. He again has managed to get away scot free.
"He's a despicable man, he disgusts me. As a family, we are again devastated by this man's actions. He worked in an adolescent unit where he took children into a little room to talk one-to-one with them. Yet he was behaving like this the whole time? I am gobsmacked.
"I have been through so much stress because of what happened but I dealt with it. Most people who are stressed go for a walk or have a drink, they don't turn to that. I wish he had gone to jail and am disgusted that he hasn't," she added.
Related Articles:
The Lost Children (2014, 2015, 2016, 2017 & 2018)
Why we shouldn't give Prozac to children
Were these children given Prozac?
Dana's Human Rights – and ours
Jake, Aged 14 (Part One, Part Two & Part Three)